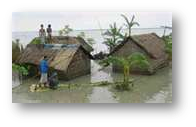 Environmental risk advisory firm Maplecroft has named Bangladesh the country most vulnerable to natural disasters on their Natural Disasters Risk Index.  Surveying incidents of natural disasters, and the material and human costs of those disasters over a period of 30 years, Maplecroft placed Bangladesh at the head of the 15 countries with an "extreme risk" rating.
Over the period surveyed, natural disasters caused the deaths of more than 191,000 people in Bangladesh, more than any other country.  Natural disasters are frequent, most commonly taking the form of tornados, tropical cyclones, and floods.  Preventionweb.net notes that from 1980-2008, Bangladesh was affected by 219 natural disasters that caused over USD16 billion dollars in damage.  These disasters have destroyed millions of homes, devastated livelihoods, and led to the spread of disease.
The Bangladeshi government and NGOs, such as the Bangladesh Disaster Preparedness Center, constantly strive to decrease the devastating effects of natural disasters.  Examining recorded climate data can give clues to the future.  The International Environmental Data Rescue Organization (IEDRO) is seeking funding to set up a site to rescue historical weather data in Bangladesh.  IEDRO, a 501(c) nonprofit organization, is dedicated to rescuing and digitizing climate data which scientists can use to generate models that estimate when and where climate-related crises are likely to occur, so that communities can be better prepared for, and better recover from, nature disasters.
In 2004, floods on the Ganges, Brahmaputra, Jamuna, and Meghna affected 30 million people and submerged 40% of Bangladesh's capital, Dhaka.  In 2009, tropical Cyclone Alia forced the evacuation of half a million people, damaged or destroyed half a million houses, and destroyed hundreds of thousands of acres of cropland.  Worst, however, was the 1970 Bhola cyclone.  Estimates put the death toll at 500,000 people, making it the deadliest tropical storm in recorded history.  Global warming may exacerbate future natural disasters.  As portions of southern Bangladesh are at or barely above sea level, the United Nations Environment Programme (UNEP) has named Bangladesh the country most vulnerable to rising sea levels, projecting a sea level rise of 1.5 meters would submerge 16% of the country and affect 17 million people.
It is the hope of IEDRO that the data it rescues will contribute to saving and bettering the lives of those affected by natural disasters, in Bangladesh, and in other countries around the world. Operating in a dozen countries worldwide, IEDRO locates, rescues and digitizes weather and other environmental data stored on perishable media.  The digitized data is made available to IEDRO's host countries as well as NOAA's National Climatic Data Center, which provides the data to the international scientific community, in hope of creating a safer, healthier world.