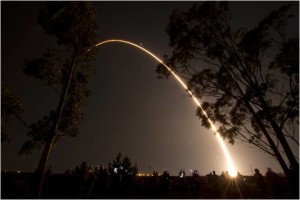 To refresh NASA's aging satellite fleet a satellite was launched on October 28, 2011, that will make observations about the atmosphere, earth and oceans to help understand climate change.  NASA is developing a new fleet of research satellites for NOAA. One of the satellite's main jobs is to test key technologies for the planned fleet.
Built by Ball Aerospace & Technologies Corp. in Boulder, Colo., the satellite is expected to orbit the Earth for five years, orbiting pole to pole about a dozen times a day. Data will be transmitted to a ground station in Norway and routed to the United States via fiber optic cable. NASA will manage the mission for the first three months before turning it over to NOAA.
Information collected by this and other satellites is used to help forecast extreme weather. However, we at IEDRO would like to remind our readers that data must be amassed for very long spans of time to be significantly useful. To discover a 6-year trend, 60 years of data must be collected.
Rescuing historic environmental data will do more to prevent humankind's suffering and death than any other endeavor. Only with accurate information about the past can we make the necessary preparations for the future. These data help to conduct climate change and global warming research, forecast disease spread, improve flood forecasts, and thousands of other vital uses.
References
Yahoo News, October 19, 2011, Earth-Observing Satellite Booted into Orbit, http://news.yahoo.com/photos/earth-observing-satellite-boosted-into-orbit-1319812357-slideshow/.
Associated Press, October 28, 2011, Earth-Observing Satellite Boosted into Orbit, http://www.businessweek.com/ap/financialnews/D9QLC4C80.htm.
Associated Press, October 24, 2011, Delayed Earth-observing satellite to launch from California early Friday, http://www.washingtonpost.com/national/health-science/delayed-earth-observing-satellite-to-launch-from-california-early-friday/2011/10/24/gIQAJCf2CM_story.html.