By Luisa Cristini, PhD, University of Hawaii at Manoa
Gavin Roy, Master's of Science candidate, Colorado State University
From Storm Spotters to transmissometers, there are countless methods that major meterological organizations and scientists use for observing and recording weather data…



Weather observations are fundamental to forecasting weather and for climatological research. Weather data can be collected manually or automatically through automated stations.
The instruments used to collect surface weather observations include: thermometers for measuring air and sea surface temperature; barometers for measuring atmospheric pressure; hygrometers for measuring air humidity; anemometers for measuring wind speed; rain gauges for measuring liquid precipitation; disdrometers for measuring drop-size distribution; transmissometers for measuring visibility; and ceilometers for measuring cloud height.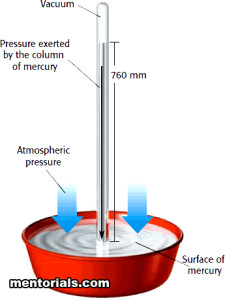 Weather stations provide data for air temperature, visibility, wind speed and direction, sea level pressure, humidity, dew point (the temperature to which air must be cooled at constant atmospheric pressure for water vapor to condense into water), precipitation amount and intensity, and snowfall and depth.
In the United States, NOAA's National Weather Service (NWS) has been observing the weather since the 19th century and continues to be the primary source of weather data, forecasts and warnings. A very interesting and educational overview of the history of weather observation is available on the webpage dedicated to the celebration of 200 years of NOAA.
The first systematic weather observations in North America were made in 1644 in Wilmington, Delaware by Reverend John Campanius Holms. Successively, the importance of weather observations gained a strong foothold and by the end of the 1800s a large network of volunteer weather observers covered the United States, manning over 2,000 weather stations.
As the network for gathering weather observations was growing, new technologies were introduced to collect and store weather data. In 1885, Professor Henry Allen Hazen made the first balloon flights to take meteorological observations above the Earth's surface. In 1909, the Weather Bureau (the former NWS) began to use balloons for upper air information, a method still in use today. During the mid-1900s, weather observing technologies started growing at a rapid pace; radar and satellites were developed almost simultaneously to gather weather data.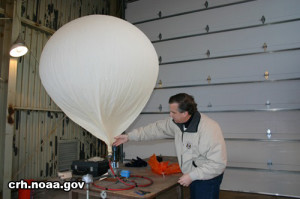 Today, the NWS continues to partly depend on volunteer support from the general public to gather weather observations through two key programs: The Cooperative Observer Program (COOP) and Storm Spotters. In both these programs volunteers provide vital, real-time observational data.
COOP includes more than 11,000 volunteers who take observations on farms, in urban and suburban areas, at national parks, along seashores, and on mountaintops. COOP's mission is to provide observational meteorological data that usually consists of daily maximum and minimum temperatures, 24-hour precipitation totals, and recent snowfall. These are required to define the climate of the US and to help measure long-term climate changes.
These data are invaluable in learning more about the floods, droughts, excessive heat, and cold spells. The data also are used in agricultural planning and assessment, engineering, environmental-impact assessment, utilities planning, and litigation. COOP data play a critical role in efforts to recognize and evaluate the extent of human impacts on climate, from local to global scales.
To obtain critical weather information from a variety of locations, the NWS and partner groups set up Storm Spotters, a volunteer program that now has more than 230,000 trained severe weather spotters. These volunteers help keep their local communities safe by sending the NWS timely and accurate reports of severe weather. Since the program started in the 1970s, Storm Spotters information, improved with satellite data and other resources, has enabled the NWS to issue more timely and accurate warnings for tornadoes, severe thunderstorms, hurricanes, and flash floods.
The progress of collecting weather observations is related directly to the rapid development of technology and a greater scientific understanding of the Earth's atmosphere. Despite the sheer number of volunteers and data that are now available, however, most climatologists and atmospheric scientists agree that they are not even close to the amount of data that they would ideally like to have access to. Modern high-memory computers are able to resolve atmospheric phenomena at an increasingly larger scale and smaller resolution, but the limiting factor will continue to be spatial gaps in the actual observations that are used to initialize these weather models and verify their results.
Thankfully, it does not seem as if volunteer interest has waned. Their observations, coupled with continued funding for the building of additional automated weather stations, will be absolutely crucial as the science continues to push forward in the quest for better understanding of our incredible and intricate atmosphere on Earth.