by Dale Elizabeth Corey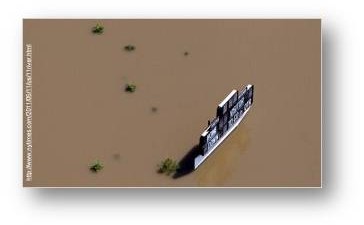 In early May 2011, Memphis, TN, faced massive flooding from America's largest river, the Mississippi. Melting from winter snows and April rainfalls contributed to the river cresting at 47.78 feet at Memphis on May 14, 2011 (the second highest level on record). Since 1993, this is the second "500-year flood" the Mississippi River has experienced. "Right now the Mississippi River is in the process of going through what we call an epic flood, meaning it's more than historic, it's more than a 100-year flood, it's more like a 500-year flood," Gene Rench with the National Weather Service said. "We could flood many homes [nearly 1,000], businesses, close down factories, people could drown." (Lee, 2011)
The predicted impact could affect up to 2,832 properties. Total damage in Memphis, was estimated at $320 million; the highest rate of land loss in the United States to ever occur in the Mississippi River Delta.
The overall devastation has been attributed to man-made carbon pollution, land-use change, and river engineering. Scientists have warned about how greenhouse pollution warms the air and oceans, and how runoff from industrial agriculture would exacerbate the situation.
Prior to the 2011 flood, scientists say that climate, land-use change, and river engineering have contributed to statistically significant increases in flooding of the Mississippi River basin over the past 100–150 years.
James Knox, University of Wisconsin, "analyzed sediment deposits along the Upper Mississippi River to determine flood magnitudes over the last several millennia. Knox has found 'striking similarities' between the post-1950 flood record of the Upper Mississippi, and two previous warm periods; one during the Medieval warm climate of about 600 to 1000 years ago, and the other a 'warm climate episode between about 3300 and 5500 years ago.' All three periods showed greater year-to-year variability in flood magnitude and a higher frequency of large floods. This pattern Knox expects will continue in the 21st century. In addition, the largest floods have tended to occur, not surprisingly, after early spring rains on a 'melting winter snow pack,' a condition more common during warm weather. (Downie, 2011)"
Although levees, dams, and other man-made structures provide solutions, and at times, hindrances, for flood protection and navigation; wetlands, floodplains, and farmland need to be used. "The Mississippi River once had a 100-mile wide floodplain where floodwaters provided all of these essential services for people and wildlife. The largest and most pervasive contributors to increased flooding on the Mississippi River system have been wing dikes and related navigational structures, followed by progressive levee construction. In the area of the 2008 Upper Mississippi flood, for example, about 2 m of the flood crest was linked to navigational and flood-control engineering. System-wide increases in flood levels have been documented at locations and at times of wing-dike and levee construction.  (Pinter, Jemberie, Remo, Heine and Ickes, 2008).
Twentieth-century policymakers chose to confine the Mississippi with levees, floodwalls and dams to facilitate development (Mississippi River Flooding, 2011). The National Wildlife Federation (NWF) identified the top five activities that exacerbate flood damages and risks as: (1) poor federal planning and management, (2) wetlands and stream destruction, (3) floodplain development, (4) poor agricultural practices, and (5) failure to regulate carbon pollution.
The NWF identified the top five recommendations to protect communities and reduce flood damages as (1) modernize federal water policy guidelines, (2) protect wetlands and streams from development, (3) reform the national flood insurance program (NFIP), (4) modernize farming practices and principles, and (5) reduce carbon pollution (Mississippi River Flooding, 2011).
By the 2040s, it is expected that flooding in the upper Mississippi basin will be, at least, if not more, than 50 percent greater than it is today. If land-building power in the river delta area is controlled now and within the next 10 years, the delta can be "renewed and sustained." Today, the National Wildlife Federation along with the Environmental Defense Fund and the National Audubon Society have partnered to make this goal possible.
According to the NWF, the emphasis should be on choosing "a better way that will build a system that over time begins to reconnect the Mississippi River with its floodplain, implement better agricultural practices, modernize federal policies and programs and reduce carbon pollution in the atmosphere." (Mississippi River Flooding, 2011). As for levees, it is suggested that a system of setback levees should be in place to maintain natural floodplain vegetation composition, flood control and preserve the geomorphologic system, a catchment-based approach.
While the world remains mostly unconvinced of global warming, large-scale trends have been detected indicating that more extreme precipitation events are to come. There is a strong correlation between increasing airborne greenhouse gases and warmer temperatures which, in turn, will lead to more frequent heavy rainfall.
References:
Author Unknown. Mississippi River Flooding. Natural Solutions for an Unnatural Disaster. Accessed 7 June 2011. http://docs.google.com/viewer?a=v&q=cache:dasGYWtNEg8J:www.nwf.org/Wildlife/What-We-Do/~/media/PDFs/Wildlife/05-18-11-NWF-MissRiverFloodingReport-Final.ashx+mississippi+river+flooding+trend&hl=en&gl=us&pid=bl&srcid=ADGEESg8Gz5uXmBBnBfd9mXeptronyA8KBHl1KrnCuZ0rtyLLPf_EYTy5N2WPrQC4U2uwjB6ppC91S_4QHmU-2crnWpH4TpD8pwNc-HzTXb7ESaBaJwPwIe9nz9hn8-4Ezrd8NBEuq6h&sig=AHIEtbRDmgjLRTOFctOfTjyCo0YRBZn9Zg
Downie, J. The Mississippi River Floods: Is Climate Change to Blame? Access 8 June, 2011. http://www.tnr.com/blog/the-study/88054/mississippi-river-floods-climate-change
Horwich, B., Ginelli, M., Murray, S., Soliz, D. Mississippi River Engineering. Man's attempt to control the Mighty Mississippi. Accessed 8 June, 2011. http://webcache.googleusercontent.com/search?q=cache:nnDU2vyPI2gJ:ag.arizona.edu/azaqua/aquaplants/classnotes/2009Class/Mississippi%2520River%2520Engineering.ppt+mississippi+river+engineering+ppt&cd=4&hl=en&ct=clnk&gl=us&source=www.google.com
Lee, L. All Eyes on the Mississippi River. Accessed 28 May, 2001. http://www.worthynews.com/top/myfoxmemphis-com-dpp-weather-all-eyes-on-the-mississippi-river-rpt-20110428/
Pinter, N., A. A. Jemberie, J. W. F. Remo, R. A. Heine, and B. S. Ickes. Flood trends and river engineering on the Mississippi River system. Accessed 28 May, 2011. http://www.umesc.usgs.gov/documents/publications/2008/pinter_a_2008.html