By Anita Dotson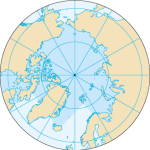 The area at the poles is melting faster than the global average. The Arctic is warming twice as fast and the Antarctic Peninsula is warming five times faster than the rest of the planet. The temperature in the air above the Antarctic continent has increased three times faster than the rest of the globe. Weather balloon data collected by scientists from the British Antarctic Survey show that the temperature in troposphere above Antarctica has risen between 0.9 and 1.3 degrees Fahrenheit per decade over the past 30 years.
What are the reasons for the Polar Regions warming faster than the rest of the planet?
According to the research I've done, the main reason has much to do with the amount of snow and ice in these regions. Snow and ice are reflective. Around seventy percent of the energy from the Sun hitting the snow is reflected back out to space. Due to global warming, there is less snow, less energy being reflected away. More energy is being absorbed by the open ocean and land and warming these areas. As more ice melts, more warming occurs, and so on. This process is referred to as the "ice-albedo feedback loop."
Observations done by NASA show that approximately one third of the polar ice cap has been reduced since studies began in 1978. By their estimates, ice cover has been declining 8.5% every decade since this time. In September 2005 the lowest ice extent of 2.05 square miles was reported. According to research done by NOAA, the polar ice cap will be reduced 40% by 2050. The Intergovernmental Panel on Climate Change predicts that it will likely be gone by 2100.
Over the last 50 years, the Antarctica Peninsula temperature has increased an average of .9 degrees Fahrenheit per decade. The Larson B ice shelf, which covered 770 square miles, broke up in 2002. Earlier this year, the bridge connecting the Wilkins ice shelf to Charcot Island on the Antarctica peninsula, collapsed.
What are some other reasons for faster warming at the Polar Regions? Scientists, at the University of Washington, believe the phenomenon known as Arctic Oscillation has something to do with warming in the Northern region. In the 1990s a strong positive phase caused major changes in the upper Arctic region, resulting in ice loss and thinning. Scientists believe Arctic Oscillation is a natural cycle that isn't necessarily connected to global warming.
Could another cause for increased warming at the poles be the melting permafrost in the Arctic? It's releasing stored methane gas into the atmosphere. Methane gas is 25 times more intense than carbon dioxide. The release of methane and carbon dioxide exacerbates the feedbacks of melting snow and ice.
Sources:
http://www.windows.ucar.edu/tour/link=/earth/polar/polar_climate.html&edu=high
http://www.mb-soft.com/public3/globalze.html
http://news.mongabay.com/2007/1113-nasa.html
http://www.washingtonpost.com/wp-dyn/content/article/2007/09/06/AR2007090602499.html