The Reanalysis Intercomparison and Observations website announces the launch of its wiki/blog hybrid, http://rean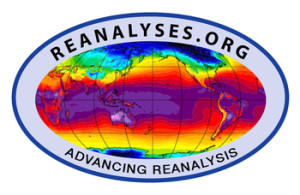 alyses.org.
From the hurricane that smashed into New York in 1938 to the impact of the Krakatoa eruption of 1883, the late 19th and 20th centuries are rich with examples of extreme weather. Now an international team of climatologists have created a comprehensive reanalysis of all global weather events from 1871 to the present day, and from the earth's surface to the jet stream level.
The 20th Century Reanalysis Project, outlined in the Quarterly Journal of the Royal Meteorological Society, not only allows researchers to understand the long-term impact of extreme weather, but provides key historical comparisons for our own changing climate.
"Producing this huge dataset required an international effort to collate historical observations and recordings from sources as diverse as 19th century sea captains, turn of the century explorers and medical doctors, all pieced together using some of the world's most powerful supercomputers at the US Department Energy's National Energy Research Scientific Computing Center in California and the Oak Ridge Leadership Computing Facility in Tennessee," said lead author Dr Gil Compo.
"The resulting weather maps, called reanalyses, provide a much longer record of past weather variability than is currently available to compare present and projected weather variability in a warming climate. They also provide a valuable insight into extreme weather and climate events that were historically important, such as the 1930's Dust Bowl."
Viewers of the new site may login and make changes and additions, or make comments. The site is a collaboration of the Atmospheric Circulation Reconstructions over the Earth initiative, the Global Climate Observing System (GCOS) Working Group on Surface Pressure, and the GCOS/World Climate Research Programme Working Group on Observational Data Sets for Reanalysis, and their partners. RIO is hosted by NOAA's Earth System Research Laboratory.
Of particular relevance to IEDRO, the website describes the International Surface Pressure Databank (ISPD) and provides links to IEDRO and other contributing organizations. The ISPD consists of three components: station, marine, and tropical cyclone best track pressure reports. IEDRO data rescue has provided many stations to the ISPD, including those in Chile and Uruguay. Additionally, the site provides links to maps of these and other stations in the station component from version 2 (used in the 20th Century Reanalysis) and version 3 newly assembled by NOAA/NCDC.
Please study the maps for stations in version 3 in particular. Station data submissions for version 4 must be received by 15 October 2011. Contact <compo@colorado.edu> or Yin Xungang Yin <Xungang.Yin@noaa.gov> to make a submission.
Also, feel free to generate discussions on the current observations, the rescue of observations, or the existing and planned atmosphere and ocean reanalysis datasets.