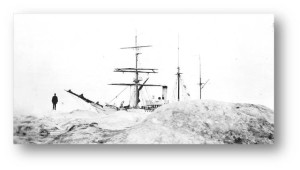 MILLIONS of Arctic weather observations were recorded by US Navy and Coast Guard officers since 1850. Until now most of this data has been inaccessible to climate scientists. A new collaboration between NOAA, the National Archives and thousands of citizen volunteers participating in the Zooniverse Old Weather project are making the original logbooks and the essential data they contain available online to researchers and historians around the world.
While the manuscript data resource is huge, converting it into a usable data format is difficult. Manual transcription of these records is unavoidable and time consuming; consequently these data have scarcely been examined by climatologists. However, one solution is to use public outreach to attract volunteers to the task. The Old Weather initiative (www.oldweather.org) has proven to be an effective way to obtain rapid and accurate transcriptions of ship logbooks. Within 3 months of its initiation more than 250,000 manuscript logbook pages from World War I era Royal Navy ships were transcribed by some 6000 citizen volunteers. These transcriptions include hourly meteorological variables, sea-surface temperature, as well as information on the movements of the ship and events on board. Quality is assured by the fact that every data point is independently transcribed at least three times.
With the collaboration of NOAA and the US National Archives, along with other partners brought together by the international ACRE initiative (www.met-acre.org), we have extended the scope of www.oldweather.org to include ships that sailed the Arctic and high-latitude oceans since the late 18th century.  The www.oldweather.org website enlists volunteers on the web to transcribe data from ships' logs to alpha-numeric values. Findings are placed in a database and used by such climate models as the 20th Century Reanalysis.
In addition to meteorological and oceanographic measurements, non-instrumental variables like sea ice reports are also extracted for integration into new or updated data products. As well as providing direct information about the regional climate, newly digitized observations provide input to future extended surface-input reanalysis products like the 20th Century Reanalysis.