Share:
Uruguay is the site of the first data rescue and digitization effort in South America. More than 900,000 weather observations from twenty-five meteorological observatories dating back many decades were in danger of being lost due to a lack of storage space.
Uruguay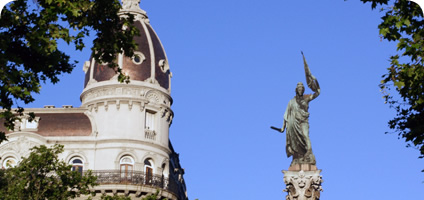 Uruguay: First Data Rescue Project in South America
In November 2004, IEDRO Executive Director Dr. Richard Crouthamel met with the Director of the Uruguayan National Meteorological Service (DNM) Raul Michelini and his staff to begin the first data rescue and digitization effort in South America. Crouthamel and Michelini were accompanied by Tom Ross from the National Oceanographic and Atmospheric Administration's (NOAA) National Climatic Data Center (NCDC) in Asheville, NC.
The goal was to rescue and digitize the meteorological observations on paper dating back many decades from twenty-five meteorological observatories throughout the country. The huge amount of paper-based meteorological data on hand at DNM headquarters—over 900,000 weather observations—was in danger of being lost due to a lack of storage space.

As part of IEDRO's philosophy, all meetings in foreign countries are conducted in the national language with IEDRO supplying an interpreter for Dr. Crouthamel. Lic. Annie Hareau, a private consultant and former head of the Uruguayan agency corresponding to the U.S. Environmental Protection Agency, was recommended as an able translator. It was soon evident that Lic. Hareau was much more than a translator; she was an accomplished professional scientist as well. Since that time, Lic. Hareau (at right in photograph below) has aided IEDRO to perform every task from translating to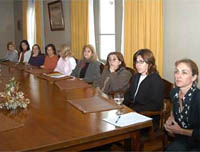 ensuring that the data rescue sites in all of South America are operating effectively. She was elected by unanimous vote to the IEDRO Board of Directors.
At first, Dr. Crouthamel planned to address the DNM staff on the data rescue process with an hour-long presentation. Lic. Michelini asked for it to be delayed for a day. The next day, Dr. Crouthamel found, assembled in the conference room, over a dozen professionals from DNM as well as from other Uruguayan agencies (below) interested in data rescue. One data rescue effort leads to another.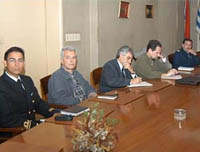 The final outcome of the meeting was the establishment of a second Uruguayan Data Rescue Project with SOHMA, the Uruguayan Navy. SOHMA has similar meteorological observations from many coastal stations; all need to be rescued and digitized. IEDRO has been asked to help rescue and digitize bathymetric (ocean depth) records, once the work with meteorological data is complete. This would be very possible since NCDC is now rescuing and digitizing oceanographic records of all types.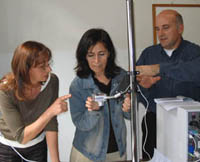 Over the past two years, both the DNM and SOHMA have done an outstanding job of imaging their old records and getting those images to IEDRO for digitization.
Unfortunately, in January 2007, Lic. Raul Michelini left the post of Director of DNM. Many of the data rescue staff have since been tasked with other duties. Ms. Troyano is currently the only member of the data rescue team at DNM who still works diligently, and on her own time, to continue the project. IEDRO hopes to find funding to help Ms. Troyano continue the rescue effort.
---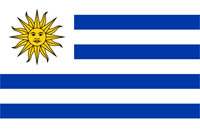 Population: 3,477,778
Capital: Montevideo
Ethnic groups: White, Mestizo, Black, Amerindian (practically nonexistent)
Language: Spanish, Portunol, or Brazilero (Portuguese-Spanish mix on the Brazilian frontier)
Religion: Roman Catholic, non-Catholic Christians, nondenominational, Jewish, atheist or agnostic, other
Median age: 33.2 years
Life expectancy: 76.14 years
GDP per capita: $12,300/year
Industries: Food processing, electrical machinery, transportation equipment, petroleum products, textiles, chemicals, and beverages
Economy: Uruguay's economy is characterized by an export-oriented agricultural sector, a well-educated work force, and high levels of social spending. After averaging growth of 5% annually during 1996-98, the economy suffered a major downturn in 1999-2002, stemming largely from the spillover effects of the economic problems of its large neighbors, Argentina and Brazil.
Reference: CIA World Handbook: Uruguay