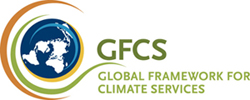 The world relies on up-to-the minute, reliable weather forecasts for everything ranging from social activities to multi-million dollar decisions. According to one recent study, U.S. economic output varies by up to $485 billion a year – about 3.4 per cent of Gross Domestic Product – owing to weather variability.
The Global Framework for Climate Services (GFCS) was endorsed by the World Meteorological Congress in 2011 as one of the WMO's top priorities to "enable better management of the risks of climate variability and change and adaptation to climate change, through the development and incorporation of science-based climate information and prediction into planning, policy and practice on the global, regional and national scale" (World Climate Conference-3).
National Meteorological and Hydrological Services, around the world, gather and analyze data on weather, climate and water and convert it to value-added information that protects lives and is fundamental to the present and future well-being of our society and our planet.
WMO and its partners are working on a detailed implementation plan and governance structure designed to maximize the full potential of the Framework. This will be presented at WMO's Extraordinary Congress in October 2012.
We invite you to view a U-Tube video on the importance of the Framework: watch video
Reference
World Meteorological Organization,
http://www.wmo.int/worldmetday/foreword_en.html.