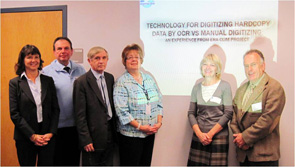 The possibility of future collaboration activities between IEDRO and members of the Russian Federal Service for Hydrometeorology (Roshydromet, All Russian Research Institute of Hydrometeorological Information – World Data Center) and representatives of NOAA and U.S. Geological Survey (USGS) were discussed in a meeting at the end of November, 2011.
IEDRO's executive director, Dr. Crouthamel, gave a presentation on data rescue and digitization (DR&D). The slides, translated into Russian, gave an overview of the DR&D process as well as stressed the necessity of the process for the betterment of all humanity. Dr. Sterin, Roshydromet's deputy director, presented the DR&D process they employ, especially the use of OCR (Optical Character Reader) software and explained its benefits as well as limitations. He related the participation of Roshydromet in the European Reanalysis of Global Climate Observations – the ERC Clim Project supported by the European Union. Drs. Sterin and Crouthamel agreed to continue their correspondence related to digitization techniques especially OCR.
Dr. Verstraeten of the USGS presented DR&D issues related to flood coverage, based on stream flow and precipitation models. He recommended IEDRO contact Dr. Vern Schneider of the USGS International Office for possible future collaborative activities.