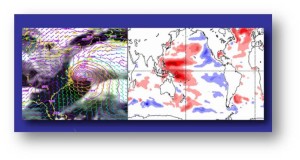 Due to recent budget cuts, the National Oceanic and Atmospheric Administration has abandoned its effort to reconstruct a detailed picture of hour-by-hour changes in the atmosphere stretching back to the 19th century. The 20th Century Reanalysis is a project that has already helped scientists better understand the causes of historic weather events like the Dust Bowl of the 1930s and unusual Arctic warmth during the 1920s and 1930s. Those discoveries and others could eventually improve the predictions of climate models that look decades into the future.
Researchers familiar with the program say the 20th Century Reanalysis budget is vanishingly small, less than a tenth of 1 percent of the $4.9 billion NOAA received this year. Funding cuts will prevent researchers who have used the 20th Century Reanalysis data to tease out the secrets of the Dust Bowl, from applying the same technique to the devastating droughts now occurring in Texas and other states. "There will be other representations of the Texas drought, but none are being done with the same technique that would use data from the 1930s drought.
It is critical that we better understand climate change. This and other climate change efforts conducted by NOAA are critical to us as a country. Please write to your Congressional representatives and ask that in the 2013 budget to please support NOAA's efforts.