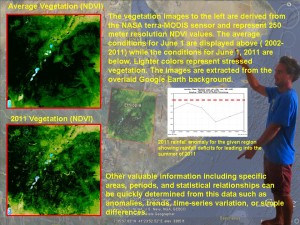 In September, Teddy Allen, our Operations Manager, had a conversation with the head climate researcher at the International Research Institute (Columbia University), Simon Mason, and received a personal tutorial on how to operate their Climate Predictability Tool (CPT). The CPT uses spreadsheet data to produce statistical forecasts and is widely used in developing nation meteorology services.
Teddy is hopeful that this, along with some other very basic data selection web tools, will complete IEDRO's package of support software for our partner stations during future site visits.
An example of interest from foreign sites for weather data trends materialized on his recent trip to Dominica. While there, Teddy discussed introducing a climate data workshop to their station since they only focused on aviation meteorology. They were extremely interested in becoming more involved in climate data trending. The meteorology services director again contacted Teddy for details regarding assistance on training her staff. The beauty of it is that their digitized data can be used directly in the CPT.
In addition, Teddy had a very successful meeting with Ricardo Fuentes from the United Nation's Development Program in the African division. Ricardo is the principle investigator for a major project that is comparing pricing shocks with rainfall variability. His background is in development and economics, and has minimal background in integrating or understanding climate data; nevertheless he was extremely interested.
Teddy and Ricardo discussed the value of adding station rainfall data versus gridded rainfall estimates. Teddy discussed the value of rescued data and how IEDRO can help to achieve his project goals.
Overall, Teddy made two important contacts that should be valuable sources for IEDRO. One person now understands our work and is active in foreign climate travels. He knows that IEDRO rescued data is a perfect match for his CPT tool.